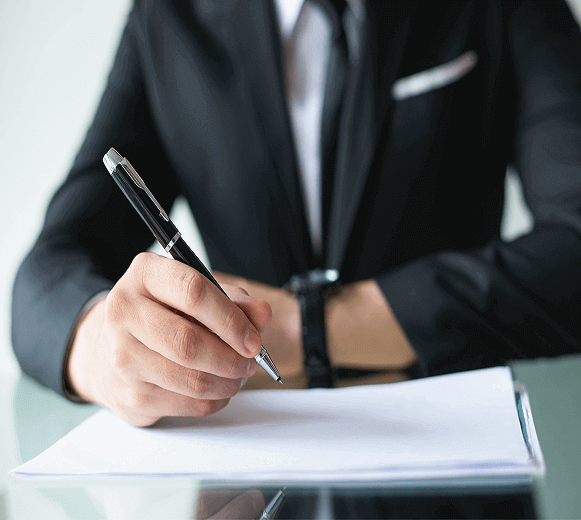 CEO's MESSAGE
I was always told as a child that the most beautiful dreams only come at bedtime. As I grew older, I realized that the most beautiful dreams are the ones you plant and reap the fruits of in real life. Our dream today is rooted in humanity and patriotism, rather than being purely financial. Our work demands ethics, commitment, discipline, and unending creativity to envision and create digital products that enhance the operations of both local and international companies. This helps elevate them to a professional level, reducing errors and ensuring a high standard of digital archiving and communication through our smart systems. We are not just contemplating the future; we are actively planning for it. As a result, we have contributed to the development of this great country's economy and have created job opportunities for those deserving. Our aim is to make the world a better place to live, and we will persist in our pursuit of this vision and mission.

Our Vision
To become a company that makes a big difference in the local market with quality, prices and strong communication for future strategic business partners.

Our Mission
Designing and developing products that serve the world of the business industry with high standards at low cost.
We run all kinds of IT services that vow your success
Accelerate innovation with world-class tech teams We'll match you to an entire remote technology
Our process employs a hybrid method with aspects from both waterfall and agile development methodologies. This allows us to accelerate development and address changes through scoping study in project deliverables that can occur throughout the implementation process. The Waterfall methodology is the most structured of the methods, stepping through specific customer requirements analyzing, scoping/designing, and coding and testing in a pre-planned, successive, all at once sequence. The agile method in software development refers to a group based on iterative development, where requirements and solutions evolve through collaboration between self-organizing cross-functional teams and with our Clients.
Facts use interactive and agile development methodologies such as SCRUM for application development. By breaking down projects into smaller interactions, we effectively speed up our delivery process. We use web-based project management and collaboration custom made tool to ensure our project stay on track. Clients are given access to these tools so that they remain updated on project status as we design, develop, test and deliver applications.
As a client, you are always in control of the work and you are required to agree to each step in the Project.
A typical project goes through the production cycle – Assessment, Planning, Design, Development, Testing, Delivery, Training and Ongoing Support.
Project Manager
Responsible for managing the implementation, project tasks, timelines and budgets.
Software Architect
Responsible for creating the IA, UI architecture, design templates & prototypes.
Multiple Developers
Responsible for implementing the creative, programming the systems and web applications.
The production staff is built to form a team of specialists with a substantial background in software development. The General Manager and the Operation Manager head the team to ensure the implementation processes are smooth.
Project Manager
Responsible for managing the implementation, project tasks, timelines and budgets.
Software Architect
Responsible for creating the IA, UI architecture, design templates & prototypes.
Multiple Developers
Responsible for implementing the creative, programming the systems and web applications.
Each client is assigned a base team that consists of:
General Manager
With vast experience, provides spontaneous and effective solutions to various challenges. Appropriate guidance is given to the Project managers- constantly ensuring customer interaction and satisfaction. Allocation of work to the respective project managers is done based on their specific domain knowledge and experience.
Operation Manager
Responsible for client escalations. Ensure the Project Deliveries are as per milestones set for the client & are within the budgets. Change management activities are handled to successful project completion.
Quality Controller (QA)
Responsible for software quality control, unit testing and project release tasks.
In an increasingly global marketplace, many businesses are developing and evolving to make themselves have an international presence. They, therefore, need solutions robust enough to cope with multiple government legislations, multiple currencies, multiple languages and which can offer integration, customization, multiple platform options and more.
We understand these challenges and have developed a Total Enterprise Resource Planning (ERP) Solution, Customer Relationship Management (CRM) Solution and Human Resource Management (HRM) Solution and Other software solutions that meet the demands of international businesses which makes us the Best Software Company in the United Arab Emirates with over 1000 plus customized solutions in the past 14 plus years.
In a nutshell, we deliver:
Large Scale Implementations.
Provide Specialist Consultancy Services.
Re-engineering and Change Management of the process flow.
Therefore, we equip our customers to run their businesses more effectively and overcome the challenges of today's business environment.
For Management
AMWAJ system is an integrated solution sharing a centralized database, with all 'users' in different departments like HR/Payroll, e-procurement, finance/accounts, etc. Therefore, the same database is accessed through one point of entry. Data entry needs to be done only once which reduces errors. Ultimately, the time and resources are shifted to innovating the process flow for efficient management, problem-solving and direct service to customers, rather than inputting, processing, organizing, verifying and other related duplication of work. Thereby, making an operational efficiency which shows a direct decrease in wastage of time and money.
=

Improved inventory management and reduction in the inventory and management cost.

=

Improved customer service levels, material shortages and reduce the delay in items being delivered late.

=

Standardized and normalized data and formats.

=

Enhanced communication across functional boundaries.

=

Emphasis on process orientation.

=

Enhanced integration across the supply chain and business units.

=

Expanded information access with appropriate user rights.

=

The management gets the complete eagle's view of the Key Process Indicators (KPI's) of the different processes.

=

Manufacturing and sales functions.

=

Inventory management with real-time data across the company/department.

=

Product distribution and logistics.

=

IT functions by consolidating and standardizing diverse legacy database platforms.

=

Get the right information right at your fingertips.

=

Enjoy faster, precise strategic decision making with AMWAJ ERP.

=

Know your organization at any point in time.

=

Can host the data on the cloud.

=

Work from different locations in the company with a unique user ID.
For Accounts Department
With the financial accounting functionality in AMWAJ ERP, the enterprise can have a secure, transparent interlinked accounting system. Improve analytical capabilities of your system; and proactively manage global business performance, reporting functionality, business intelligence functionality, reminders and milestone representing specific activities, trial balance, profit and loss, balance sheet. By improving and innovating financial processes, AMWAJ enables the following:
=

Increase the effectiveness of compliance with the standard operating procedures.

=

Comprehensive auditing and deeper reporting capabilities.

=

Improve business analysis and decision support by deploying performance management tools.

=

Analyze the entire enterprise performance and its resources – directly to the employees' desktops.

=

Innovate financial management strategies around business process outsourcing, supplier collaboration and customer account accuracy.

=

Optimize cash flow through improved billings, receivables, collections, payments modules.

=

Get rid of the year ending chaos and quickly close your books of accounts. Period/year-end closing was never so easy.

=

Get the real-time statement of accounts at any point in time.

=

Powerful accounting as the backbone of the solution.

=

Set and get reminders for all important events.

=

Multiple budgets or department wise budgetary controls processes.

=

Templates for financial statements.

=

PDC handling features.

=

Cheque and other air waybill printing possible.

=

Flexible chart of accounts based on convenience. In a short while, users can create a chart of accounts based on their preference.

=

Audit Trail of all the actions taken by each user.
For IT Department
Having a Middle East market presence for more than 12 years, we have created Software Applications for various industries. No matter which ever kind of market or industry processes the companies are from,  AMWAJ ERP can create and customize the difficult, time consuming processes for business with a total solution.
=

Advanced document creation wizards.

=

Powerful customizable reports in simple steps.

=

Customize any field value on different screens for convenience and processes followed.

=

Easy to deploy on the server machines.

=

Reliable system architecture.

=

Easy user access privilege settings based on the current organization chart and level wise access possible.

=

User activity logs and audit trail.

=

Add/Edit/Delete/Print Logs.
planning & strategy
A more comprehensive list of tasks to which web development commonly refers, may include web engineering.
design & develop
Design elements are the basic units of any visual design which form its structure and convey visual messages.
test & deliver
All software testing uses some strategy to select tests that are feasible for the available time.